Options - Spell Checker
You can enable spell check mode in Calibration Control through the Spell Checker dialog (Advanced Options). There are several spell check modes to choose from plus further configuration options in the checkboxes shown below.
Mode: Choose from the following spell checker options:

None: By default, Calibration Control does not use the Spell Check mode.
As You Type: Underlines incorrectly spelled words in red as you type. This option does not offer suggested correct spelling.
Dialog On Validating: Upon submission of any dialog, a spell check window will appear if any spelling errors are found, which includes correct spelling suggestions.
Dialog On Validating And As You Type: This option shows a red line under incorrectly spelled words and a spell check window upon submitting any dialog with spelling errors.

Enable the User dictionary when spell check mode is active.
Enable the option to ignore words in UPPERCASE, MixeD CaSe and words that contain numbers.
Enable spell check on Compound Words and Hyphenated words
Maximum Word Length to Check: Enter the maximum word length to check. By default the value is 80.
Language: Select the language for the spell checker. Available languages: English, Dutch, French, German, Italian, Portuguese or Spanish.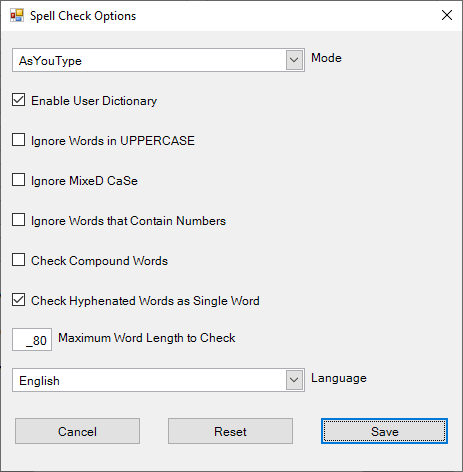 Last Updated: 13 August 2020