Program Options
Modify Application Settings
You can modify Calibration Control (our Calibration Management Software) program options by selecting Options from the Utilities tab of the ribbon menu or in the Files folder drop-down menu.

General Tab
First Day of Week: This setting determines the due date when calibrations are using the 'Week of' Frequency. For instance, if a tool has a calibration frequency of 'Week of' and a unit multiplier of three (i.e., every three weeks), Ape software will calculate the next calibration date by adding three weeks to the last calibration and then choosing the first day of that week (as determined by this setting).
Current or Next for 'Week/Month of' Due Dates: This setting is used while calculating the calibration due date for the 'Week of' and 'Month of' frequencies. For example, if a tool has a 'Month of' frequency, a 12 unit multiplier (i.e., every 12 months), and the offset for the program is 'Next' (this setting), the Calibration Due Date is calculated by adding 12 months to the Last Calibration and then choosing the first day of the Next month.
Check for Program Updates: Ape software can notify you of available updates on a Daily, Weekly, or Monthly cycle when the application is first opened. The default is daily.
Measurement System: Use the drop-down to switch the default measurement system between U.S. (Imperial) and Metric. The default is U.S. (Imperial).
Company Name and Licensed To (User): Fields here are the same ones presented in the dialog where the product key was entered.
Equipment ID of Default Template: New Equipment records can be created from a default template identified by the Equipment ID of that template. Therefore, this field identifies an existing Equipment record to be used as a template for new Equipment records.
Unique Alternate Equipment ID: Determine whether Alternate Equipment ID's should be unique or not, or be unique within a given Site. Be aware that Equipment ID's should always be unique.
Language: Select the language displayed. Changing the language requires a program restart.
Label Printer: When multiple label printers are installed on a single computer, the printer used to print labels for Ape software may need to be specifically identified in this field.
Start Screen: Designate which grid to have open whenever you start Calibration Control.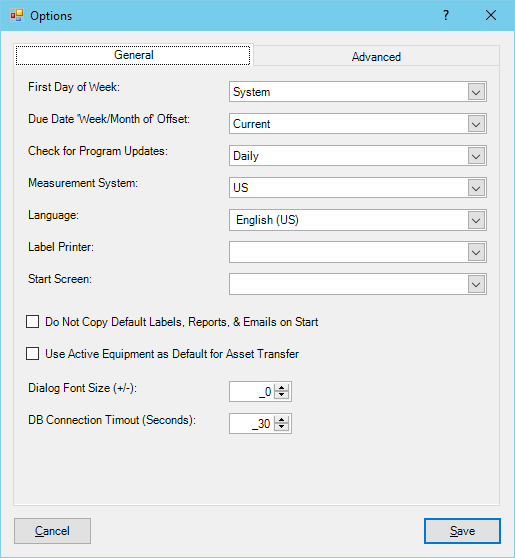 Label Date Masks and Number Mask Tabs
Refer to the Masks in Calibration Control help topic for an explanation of masks.
Default Labels Tab
Default Equipment Labels: These settings determine which label templates are used by default when using the 'Print Label' button from the Equipment dialog. (Default label settings can be overridden for a specific Equipment, Type, or Model record.)

Calibration Due: Prints when the calibration frequency generates a due date and uses labels with the 'Due Cal' string in their file name.
Asset: File templates are identified as Asset labels by the 'Asset' string in the file name.
Cal Not Required: Prints in place of the Calibration Due label when the Calibration Frequency is 'Cal Not Required' and is identified as CNR label by the 'CNR' string in the file name.
Next Use: Print in place of the Calibration Due label when the Calibration Frequency is 'Next Use' and the labels are identified by a 'Next Use' string in their file name.
System: Prints with information relating to an Equipment System.

Note: The number at the beginning of the file name indicates the width of the label tape in millimeters. The number at the end of the file name indicates the sequence. Any custom labels should be given a unique sequence. All labels can be edited using the Brother P-touch Editor software that comes free with your Brother P-touch label printer. For a preview of all default label templates included in Ape Software, visit our Label Fields topic.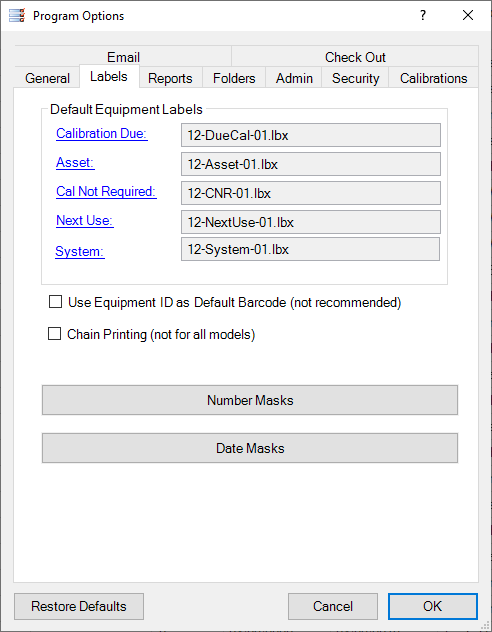 Default Reports Tab
Default Reports: These settings determine which reports are used by default. While most reports can be previewed using the Reports Print Menu, the Cal Certificate includes specific data so that it can only be previewed through an Equipment record.

Calibration Cert: Template used when printing a Calibration Certificate.
Due Cal Report: Report template used when printing the Calibration Due Report.
Cal Worksheet: Calibration Worksheet that prints when the Equipment record has a Measurement Template or a previous Calibration Event.
Blank Worksheet: Calibration Worksheet that prints when the Equipment record has neither a Measurement Template nor a previous Calibration Event.
Uncertainty: Default report for the Measurement Uncertainty Budget.
OOT Investigation: Designates the Out-Of-Tolerance (OOT) Investigation worksheet used when Equipment received for calibration is found OOT.
Custom Report: Custom report for a single Equipment record, which can print from the context menu in the Equipment grid.

Note: All reports can be edited using Ape software's built-in Report Designer. Custom changes made to default templates should be renamed, (e.g. "CalibrationCertificate - COMPANY").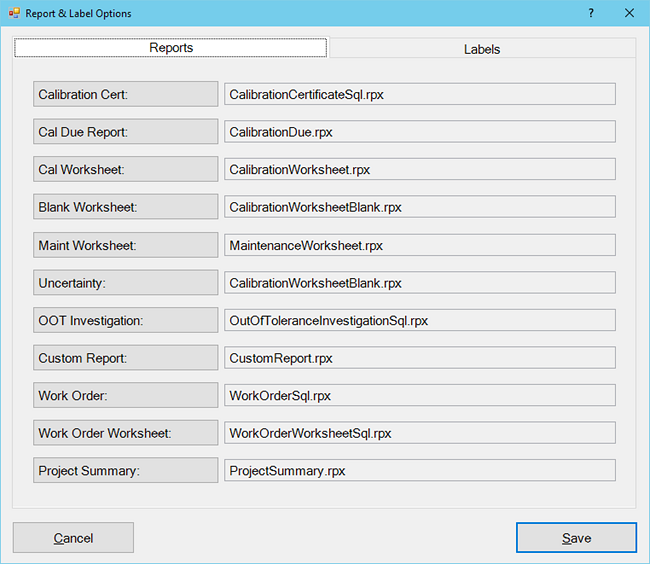 Default Folders Tab
Location of Files Folder: The Files Folder contains the three important sub folders of Attachments, Labels, and Reports. While the Attachments folder is the location where Ape software stores the actual folders, the Labels and Reports folders store templates (how the labels and reports are printed).

It is important to move the Files Folder to a location where it will be backed up regularly and can be accessed by other users of the Ape software database. Jump to Folders help topic for more information.

Location of Auto Generated Website: This is the location where the auto-generated Due Calibration website is created either by clicking on the 'Publish Website' icon in the Utilities tab of the ribbon menu or via the Auto Notify utility.
THUM Database: The THUM (Temperature and Humidity USB Monitor) database is the location where the THUM device stores its data. If the device is used and the database exists, then Ape needs to know where this database is so temperature and humidity data can be added automatically to Calibration Event records.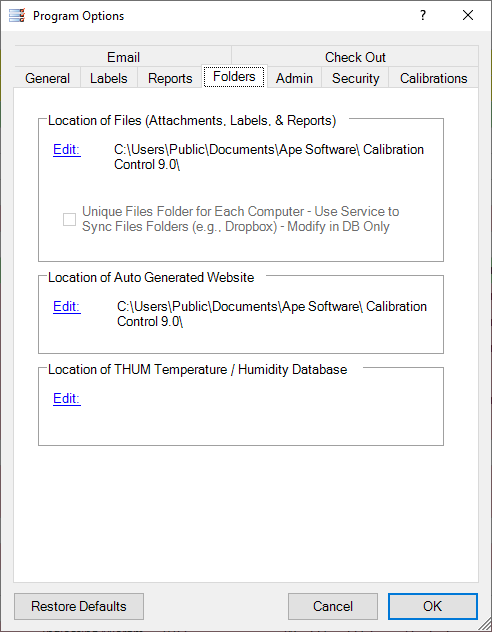 Calibrations Tab
Status on Calibration Pass: Set the Equipment record to [THIS Status] when saving a new Calibration Event that is Passed.
Status on Calibration Fail: Set the Equipment record to [THIS Status] when saving a new Calibration Event that is Failed.
Received for Calibration Status: When using the Status Change dialog, if [THIS Status] is set, three changes are made to the related Equipment dialog: (a) the Status is changed to [THIS Status], (b) the Received field is set to TODAY, and (c) a note record is created describing the event.
Reminder Lead Days: The number of days to include in the Due Cal report and when Browsing Due Cal.
Manually Set Due Dates in Equipment Dialog: Normally, the Calibration Due (Next Cal) is automatically calculated based on the Last Calibration and the Calibration Frequency. Therefore, checking this option for manual set will disable the automatic calculation.
Ask to Print OOT Worksheet When Received OOT: With this option checked, the User who saves a Calibration Event with the Received Out-Of-Tolerance (OOT) condition will be asked if the OOT Worksheet should be printed. (Works with the next option below.)
Null Cal Received Date on Successful Cal: (Usually used in conjunction with the above Received for Calibration Status feature) With this option checked, when a new Calibration is saved with a 'Passed' Status then the Received [for Calibration] field in the Equipment record is automatically nulled.
Use Last Calibration as Template if No Template Linked: With this option checked, creating a new Calibration Event uses the most recent Calibration Event as the Measurement Template if no Template is otherwise linked for that Equipment.
Admin Options
Edit Form Labels: Change the field names and other text related to dialogs. For example, you can change the Equipment ID field to be named Asset, and the Location can be changed to Work Center or whatever works best for your organization.
Add Missing/New Reference Records: Adds any missing standard records in the reference tables that Ape software uses. If one or more records is accidently deleted from tables like Language (used for field names), Roles (defines Admin, Supervisor, etc.), or Permissions (which Roles are required for each Permission), then pressing this button will re-add all missing records.
Refresh All Reference Records: Completely delete and refresh the contents of all reference tables.
Feature Visibility: Hide the features you do not use by changing the visibility settings for the ribbon menu, grid context menus, and dialog boxes.
Switch to Sample Database: Switches to a sample database with sample populated fields. Useful when exploring new features.
Do Not Copy Default Labels, Reports, & Emails on Start: By default, each time the Ape software starts it confirms that all the default Labels, Report, and Email templates are in the Files folder. If any file is missing, Ape replaces it. Checking THIS option prevents this feature.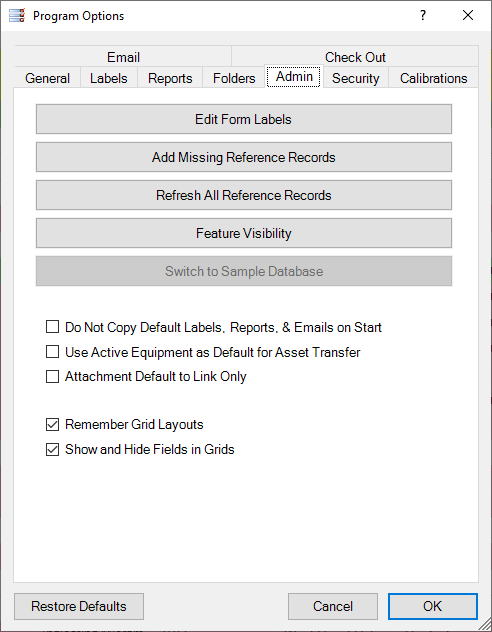 Security Tab
Activate/Deactivate Sign-In Mode: Enable or disable the User Authentication Mode (Sign-In Mode). At least one User must have Administrator privileges to Enable User Authentication and, by default, only an Administrator can disable Authentication.
Edit Permissions: Change the Roles (e.g., Administrator, Supervisor, Technician, etc.) required for any Permission (e.g., adding an attachment, editing a Person record, adding a Calibration, etc.)
Password Security: Edit User password strength, rules, and expiration times.
Sign In with Windows User Name: For ease of use, use a Windows account to sign in to Calibration Control.
Only Current Users Can Check Out Equipment: Prevents anyone but the current user from checking out Equipment.
Prevent Users From Saving Passwords on Client PCs: When the Authentication mode (sign-in) is enabled and a User signs in, they are given the option of saving their User Name and Password for future automatic sign-ins. Checking THIS option prevents the ability to save their User Name and Password.
Require Re-Entry of Password When Signing In: Requires users to enter their password twice in order to successfully sign in.
No Authentication for Auto-Notifications: Allows email notifications to be sent without prompting the user sign-in authentication dialog.
Disable Terminal Features for All Users
Disable Terminal Equipment Grid: Prevents any user from seeing the main list of Equipment from the Terminal dialog.
Disable Check In/Out Dialog: Prevents the use of the Check In/Out dialog when Terminal mode is activated.
Disable Status Change Dialog: Prevents use of the Status Change dialog when Terminal mode is activated.
Disable Asset Transfer Dialog: Either disable the Asset Transfer dialog completely or disable one or more of the fields that can be edited.
Inactivity Exit
For security purposes, adjust how many minutes pass before Calibration Control prompts a user to sign-in again.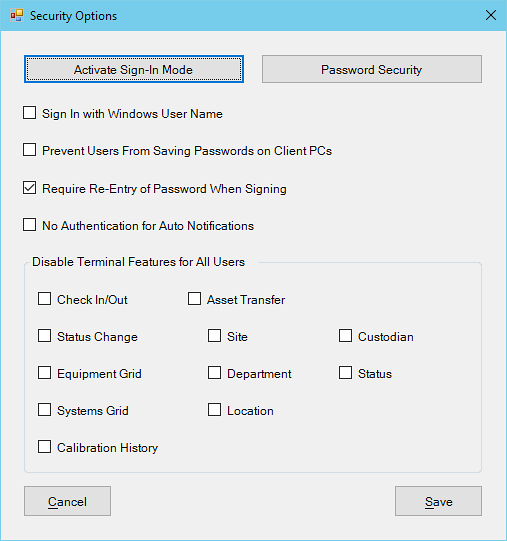 Email Tab
Use the fields in the Email tab to setup a connection to your company or personal email server. Ape software makes use of these settings in the Auto Notify feature that automatically sends Email notifications or messages to People identified in the application.
SMTP Server: An SMTP server address usually looks something like SMTP.YOURDOMAIN.COM.
Email/Password: This is the email address (or user name) and password of the email account Ape will be sending mail from.
Port: Leave this at zero (0) unless you know it should be a different number.
Use Secure Connection: If an SMTP server requires a secure connection, check this box.
Disable CSS in Emails: The default Email templates use embedded cascading style sheets (CSS) to format text with colors, backgrounds, decorations, etc., especially in the table of Equipment If the email services you send emails to blocks some CSS, like Gmail , check this box to get a list of some minimal coloring back into the Equipment grid.
Send Test Email to: Solely for the purpose of testing your email settings, enter an email address to send a test message to.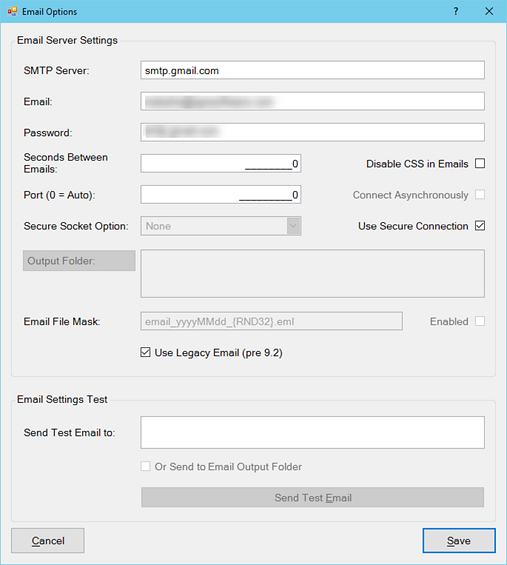 Last Updated: 26 August 2019