Hiding Equipment Records by Status
Use Equipment Status to Manage Visibility
It's a good practice to not delete equipment records in Calibration Control (our Calibration Management Software) even after equipment is no longer in use. But not removing out-of-use equipment can clutter up your Main Tool Browse screen and Due Cal reports making them more difficult to use.
To make this problem a little less daunting, choose which status codes should be visible and which should be hidden.
Status Codes Visibility
Select the Status Codes menu option under the Common tab and open a record that needs to have its visibility status changed. Double-click outside the grid to add a new Status Code.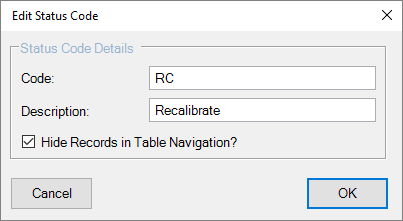 Check the 'Hide these records . . .' checkbox and the equipment records with this status code will no longer be visible in the Equipment Browse screen or the default Due Cal reports. Uncheck the checkbox to make the records visible again.
Show/Hide All Hidden Records
From the Main Tool Browse screen, you can right-click in the grid and a popup menu will appear. From this menu, you can toggle the Show Hidden Records option to show or hide all records with a hidden Equipment Status.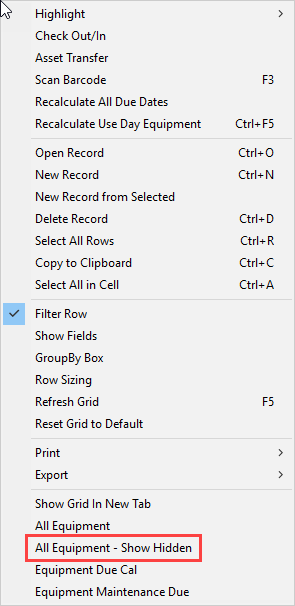 Last Updated: 10 January 2018