Sign-In Mode (Enabling Authentication)
Set up and Turn on User Authentication
In Calibration Control (our Calibration Management Software), the process requires two general steps, which are (a) adding an Admin User and (b) clicking a button to turn on user authentication (signing in).
Creating an Admin User
Select the Users icon under the Utilities tab in the ribbon menu and create a new User record by double-clicking in the gray area or right-click for the context menu and choose [New Record].
General Tab
The only required fields are 'User Name' and 'Password'. When creating a password using this dialog, if the user is not signed in or is not editing their own user information, the password entered becomes temporary and the user (represented by the User record) must choose a different password the next time they sign in.
If a Person record already exists for this User, select that record in the Person field. By default, the Status is set to Active and must remain so for the user to have the ability to sign in.
The Language option has a drop-down menu where a user can specify which language they want their software to be in when they sign in. The language selection is unique to each user.
A Windows User name can be used instead of an Ape Software specific username and password in order to streamline the user experience and to cut down on password clutter. To use this feature, enable the Windows User option by checking the 'Sign In with Windows User Name' box in the Security tab of the Options dialog.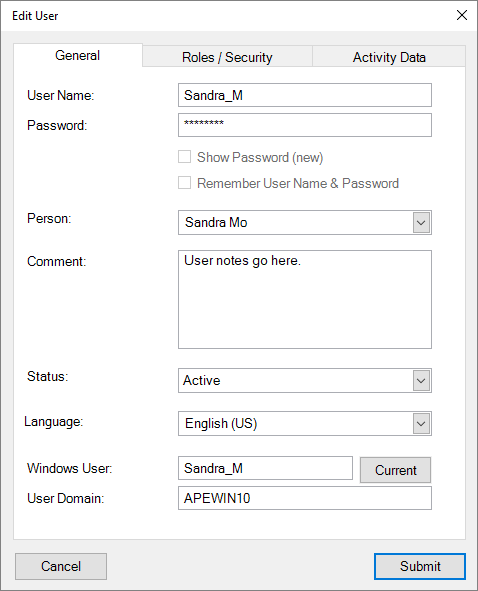 Roles/Security Tab
In the Roles/Security tab (see below), select the Administrator checkbox to assign Admin privileges for this User.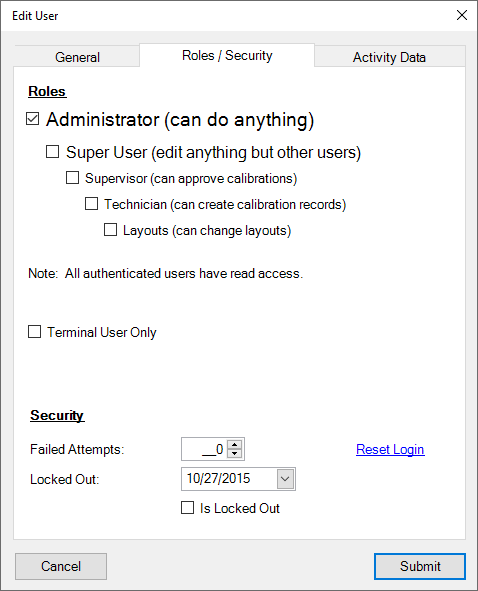 Activity Data Tab
None of the fields are editable in the Activity Data tab. This tab shows past modifications for better user accountability.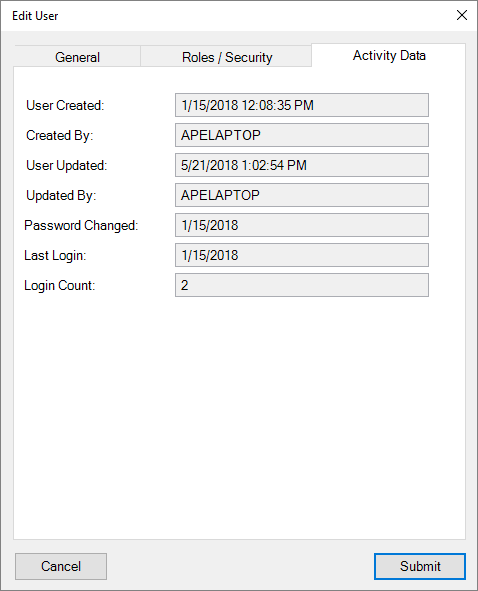 Turning On User Authentication
After creating at least one user with an Administrator role, open the Options dialog by selecting the Options icon in the Utilities tab of the ribbon menu and selecting the Security tab (see below).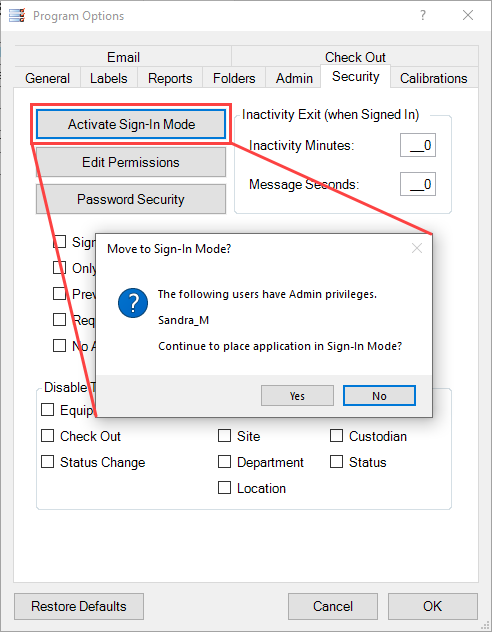 Click the [Activate Sign-In Mode] button to enable authentication. Note: at least one active Admin must exist for this function to work.
Last Updated: 19 August 2019