Feature Visibility Options
Simplify Calibration Control's ribbon menu by hiding features your company is not using.
Quick Start Video
Watch a quick video to learn how to hide features that you're not using in Calibration Control (our Calibration Management Software).
Make Features Invisible
Feature Visibility is found under the Advanced tab in the program Options. Find the Options dialog under the Files tab or under the Utilities tab of the ribbon menu.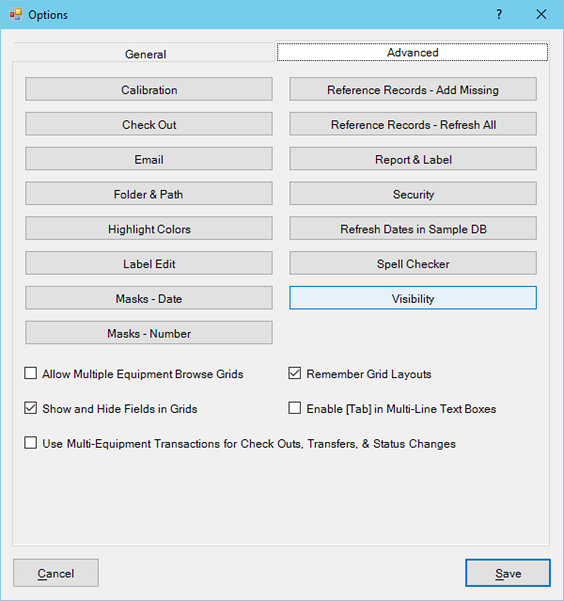 Click on Feature Visibility to view the available features you can hide. Select a feature (or group of features) to become invisible on the ribbon menu.
Note: Restart Calibration Control to apply these changes.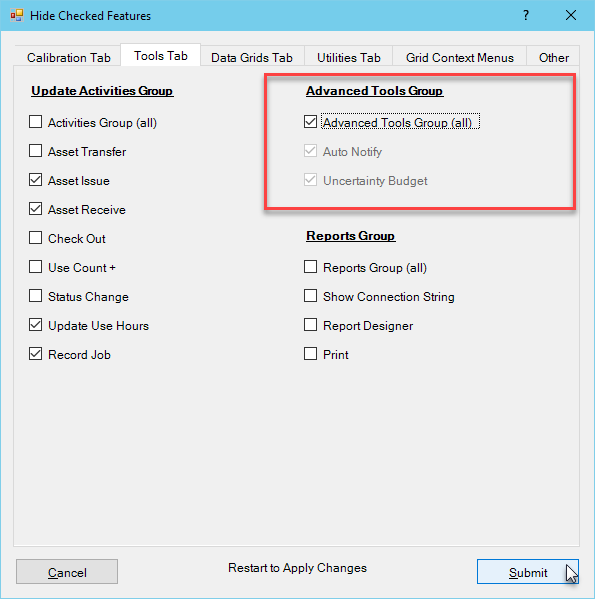 In the above image, notice how the feature group 'Advanced Tools' is marked to be invisible.
The ribbon with the 'Advanced Tools' feature group visible looks like:

The ribbon with the 'Advanced Tools' feature group hidden looks like:

When it is made hidden or invisible, a feature or a feature group is simply removed from view. To make a hidden feature visible again, return to the Feature Visibility dialog in Program Options and remove the feature's checkmark, then restart the program.
Minimize Ribbon
For a better view of the open windows, right-click on the ribbon and select the 'Minimize the Ribbon' option. Bring it back the same way, by right-clicking where the ribbon would normally appear.