Options - Security
Modify Calibration Control's advanced Security settings in the Options dialog. Easily activate User Authentication (sign-in mode) with just a click of a button, disable CC Terminal features, and more.
Activate/Deactivate Sign-In Mode: Enable or disable the User Authentication Mode (Sign-In Mode). At least one User must have Administrator privileges to Enable User Authentication and, by default, only an Administrator can disable Authentication.
Password Security: Edit User password strength, rules, and expiration times.
Inactivity Exit: Adjust how many minutes pass before Calibration Control prompts a user to sign-in again.
Sign In with Windows User Name: For ease of use, use a Windows account to sign in to Calibration Control.
Only Current Users Can Check Out Equipment: Prevents anyone but the currently signed in user from checking out Equipment.
Prevent Users From Saving Passwords on Client PCs: When the Authentication mode (sign-in) is enabled and a User signs in, they are given the option of saving their User Name and Password for future automatic sign-ins. Checking THIS option prevents the ability to save their User Name and Password.
Require Re-Entry of Password When Signing In: Requires users to enter their password twice in order to successfully sign in.
No Authentication for Auto-Notifications: Allows email notifications to be sent without prompting the user sign-in authentication dialog.
Disable Terminal Features for All Users
Disable Terminal Equipment Grid: Prevents any user from seeing the main list of Equipment from the Terminal dialog.
Disable Check In/Out Dialog: Prevents the use of the Check In/Out dialog when Terminal mode is activated.
Disable Status Change Dialog: Prevents use of the Status Change dialog when Terminal mode is activated.
Disable Asset Transfer Dialog: Either disable the Asset Transfer dialog completely or disable one or more of the fields that can be edited.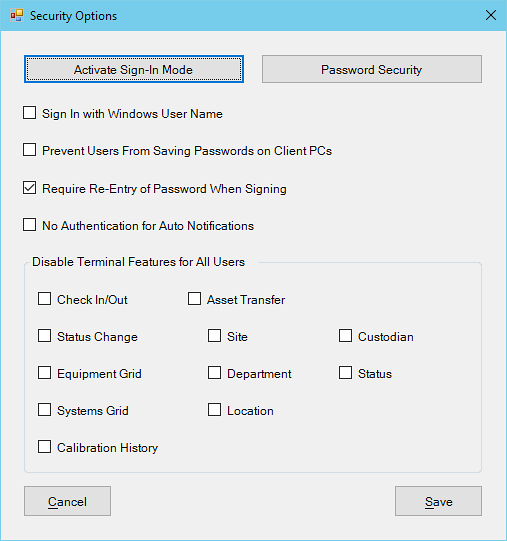 Last Updated: 13 August 2020