Asset Transfer Dialog
Quickly Change Department, Location, or Custodian
Transfer Assets quickly to new Sites, Departments, Locations, Custodians, or change the Status in Calibration Control (our Calibration Management Software). Administrators can control which fields are users are allowed to use by adjusting permissions in the Options dialog.
Transactions made using the Asset Transfer dialog are automatically logged in the Equipment dialog History tab.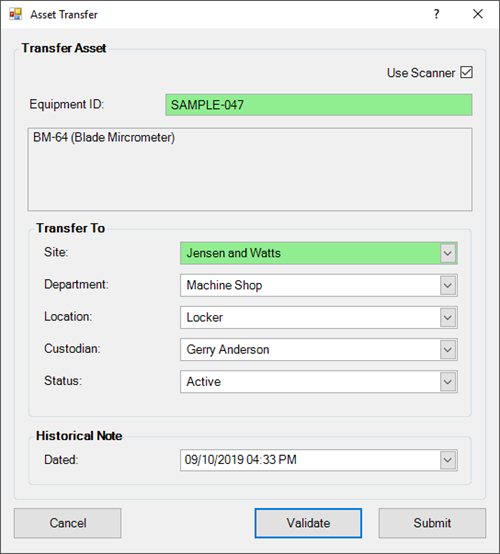 Under the 'Common' tab, click 'Asset Transfer'. Begin using the dialog by identifying the Equipment record to be changed; do this by entering an Equipment ID, Master ID, or Serial Number. Then select the new Site, Department, Location, or Custodian and press the [Submit] button.
The Asset Transfer dialog can also be activated directly from the Equipment grid by right-clicking on the Equipment record to be changed and selecting 'Asset Transfer'.
When using a barcode scanner, checkmark the [Use Scanner] button first.
Last Updated: 10 January 2018