Asset Transfer Dialog
Change Site, Department, Location, Custodian, or Status
Transfer Assets quickly to different Sites, Departments, Locations, Custodians, and change its Status in Calibration Control (our Calibration Management Software ). Open the feature dialog by clicking on the Asset Transfer icon in the Tools tab of the ribbon menu.

The Asset Transfer activity dialog can also be opened from the Equipment Grid by right-clicking directly on an Equipment record and selecting 'Asset Transfer' in the context menu. All transactions made using Asset Transfer are automatically logged in that Equipment dialog's Notes tab.
Using Asset Transfer Feature
Enter an Equipment ID or a Serial Number in the 'Equipment ID' field of Asset Transfer. Alternatively, select the [Use Scanner] checkbox when using a barcode scanner.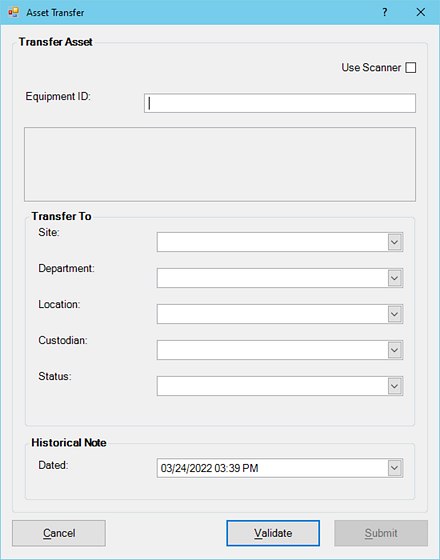 Once an Equipment ID or Serial Number is entered, press [Tab] or [Enter] keys so the additional fields populate with current data about the Equipment record.
Change the desired fields of Site, Department, Location, Custodian, or Status. Field values changed will highlight green; fields left blank will not be changed.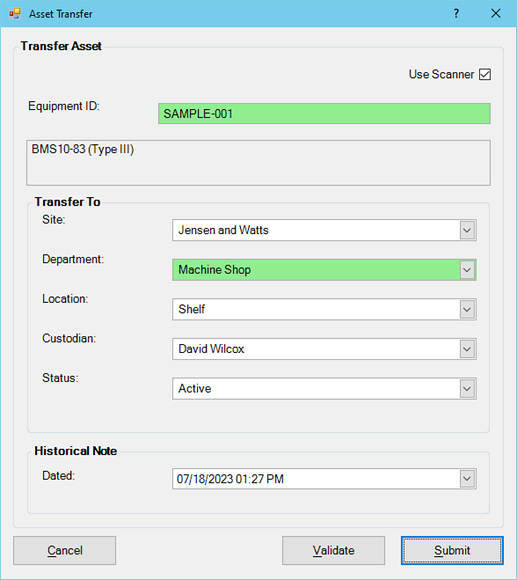 When transferring multiple assets, click the [Validate] button before the [Submit] button to submit and clear data to continue with another transfer. On the final transaction, simply click the [Submit] button to submit and close the Asset Transfer dialog.
CC Terminal Mode
The Asset Transfer feature in Terminal Mode can be active or inactive for Terminal Users. By default permissions, a SuperUser (required user role) can enable specific Asset Transfer fields, if any, from Options dialog > Advanced > Security tab.