Options - Folder & Path
The Files Folder contains the three important sub folders of Attachments, Labels, and Reports. While the Attachments folder is the location where Calibration Control stores the actual folders, the Labels and Reports folders store templates (how the labels and reports are printed).
Location of Files: It is important to move the Files Folder to a location where it will be backed up regularly and can be accessed by other Calibration Control users. Click the Edit button to browse to your desired location. Note: If you cannot find your desired location through this dialog, you can manually enter the path in your database. Take a look at the Folders help topic for more detailed information.
Location of Auto Generated Website: This is the location where a simple website listing all equipment grouped by Department. It can be created manually by clicking on the 'Publish Website' icon in the Utilities tab of the ribbon menu or scheduled via the Auto Notify utility.
THUM Database: The THUM (Temperature and Humidity USB Monitor) database is the location where the THUM device stores its data. If the device is used and the database exists, then Ape needs to know where this database is so temperature and humidity data can be added automatically to Calibration Event records.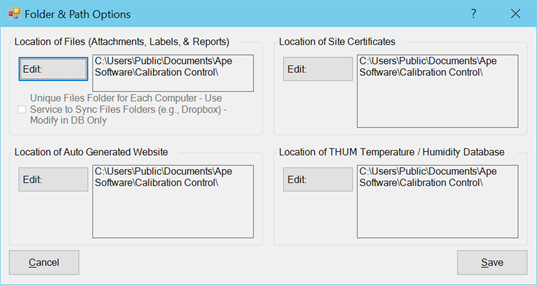 Last Updated: 4 August 2020