Work Orders
Create and manage work orders within Calibration Control (our Calibration Management Software ) and link them to specific equipment records.
Find the Work Orders icon in the Calibration tab of the ribbon menu.

Work Orders Dialog
The 'Edit Work Order' dialog contains 5 tabs useful in organizing each record.
Submit Tab
Create a work order number and add information like who requested it, which department and location it's at, which account it's related to, what category it falls under, and a priority level. Add a description of the work order and then link related equipment using the panel grid on the right side of the dialog. Click on any of the shaded boxes to quickly add new fields for its drop-down box.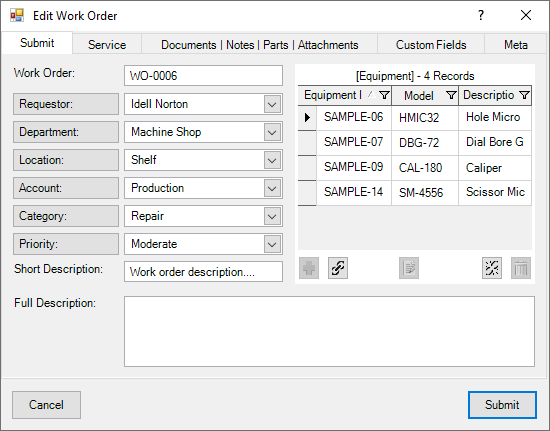 Service Tab
Add work order information related to its status, due date, received and completed date, as well as the technician in charge, the work order's estimated labor time, labor cost, and material cost. This tab also includes a space to write out the actions taken to complete the work order.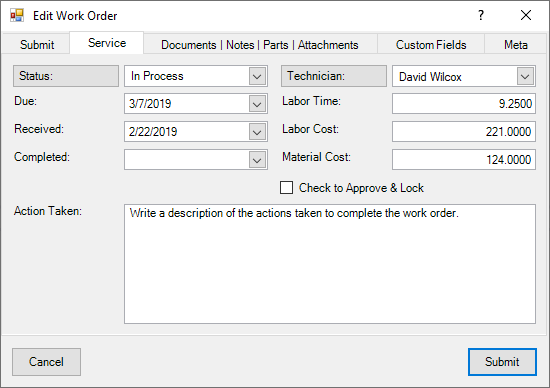 Documents/Notes/Parts/Attachments Tab
Within these 4 panel grids you can add and link documents, notes, part numbers, and attachments to a work order. Filter and sort each panel grid using the gray shaded Filter Row.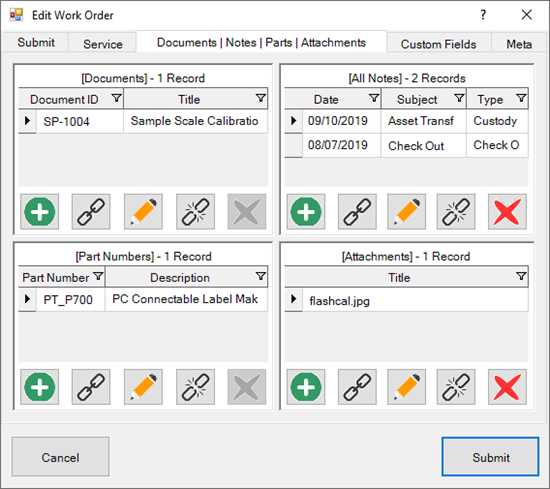 Other Tabs
Custom Fields Tab: Custom fields are available for adding Characters, Dates, Numbers, and Check boxes. Visit the Change Field Names help topic to learn how to edit these fields.
Meta Tab: This is a READ-ONLY information tab used as a reference to view which user created the record and which user was the last to edit it; including the dates and times these occurred.
Last Updated: 14 August 2019